"We are getting late. Let's hurry up!", cried Shruti, eager to ride her bicycle.
"Please help me with my cycle", Karthikeya requested his grandfather.
"Help me too!!" added Maitreyi carrying her hefty cycle.
I sat there smiling on the balcony enjoying their festive mood. They are all preparing their bicycles for Ayudha pooja. Gargi, the eldest of my grandchildren is decorating each cycle with flowers and vermilion. They believe it to be the most important day during Navratri.
"Grandmaa…Come down. Let me take you on a ride", said Shruti playfully. "Yes, coming in some time", I chuckled and stood up for a better view.
All the kids stood beaming ready to ride their cycles. And, my husband Gangadharam stood there holding Karthikeya's cycle from behind.
"Sit and try to balance yourself, Karthik", Gangadharam encouraged my youngest grandson while holding the cycle.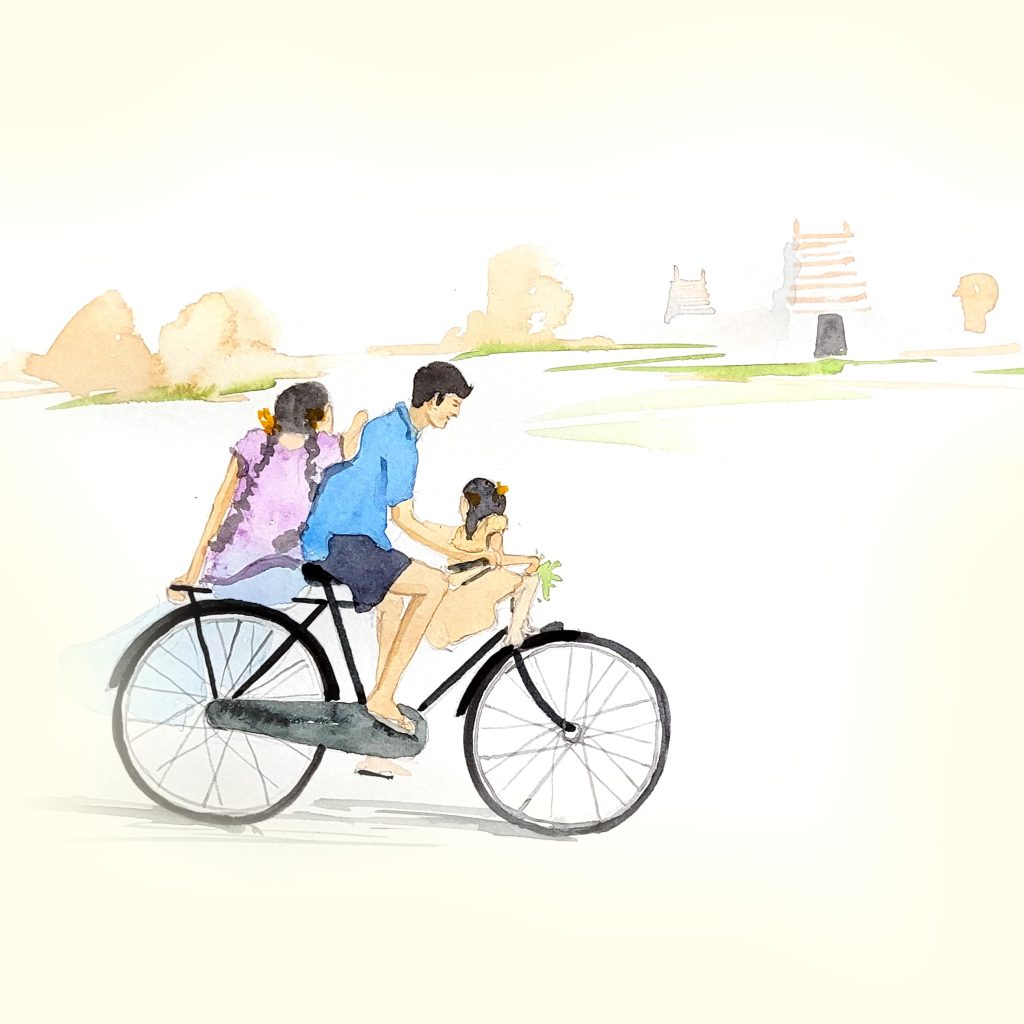 This reminded me of my childhood at Dharanikota with my elder brother and sister. It was during the Dasara holidays that my brother taught me how to cycle.
"That's the right balance. Slowly, pedal", he would stand cheering me up from behind.
Ayudha pooja was a moment of joy and pride for us. We used to perform it with utmost love and respect for our father's cycle. After we complete the pooja, my brother used to ride us to the temple on the hilltop.
"Sit steady and don't move", he would be on a constant vigil along the way.
We would ride to the hilltop talking and giggling all the way. My brother would share stories about his experiences. While my sister and I would keep guessing about the festive prasadam at the temple. If it were gaare or curd rice, we would carry it back home and enjoy it with Allam Pachchadi and Nimmakaya.

"Such treasured memories", I reminisced. By that time the lane was empty. Yet, I could hear joyful cycle bells ringing at a distance. Karthik was at the lane's end practising balance with Gangadharam watching him. I stood there for a few minutes and walked back to the kitchen to arrange Allam Pachchadi and gaarelu for us.
---
Ayudha Pooja is a part of the Hindu Dasara (Navratri) festival which is celebrated for 9 days. This pooja is done to express gratitude and respect to all those instruments/vehicles that add value to our life.
Prasadam is a religious offering to God. These are usually eatable items that are distributed to devotees as Lord's blessing.
Gaare/gaarelu are popular south Indian breakfast/snacks. These are doughnut-shaped deep-fried savory usually enjoyed with pickles or chutney or sambar.
Allam Pachchadi is a sweet and spicy pickle made with ginger, tamarind, and jaggery as primary ingredients. It is popular in parts of South India and goes well with most breakfasts, snacks, and meals.
Nimmakaya is a spicy-sour pickle made with juicy marinated lemons. This goes well with any flavoured rice or plain rice with ghee.